It's been a few crisp New England days. I'm on day two of my post birthday trip hangover. Patriots played a hell of a game on Sunday Night Football.
Nature really is healing.
If you didn't see it (or stay up after 11 to watch the end) the Pats headed to the left coast to take on the Seattle Seahawks on Sunday Night Football last night.
They didn't get the W, but scored 30 points on what looks to the be one of the NFL's best team this year and the game came down to legit the last second and play of the game.
I don't usually throw a bunch of stats at you, but this game was so much more competitive that I thought it was going to be and the numbers are impressive for a loss.
Cam rocked another awesome hat and threw for almost 400 yards, 1 TD, and one pick. ALSO, he ran for 2 TDs and looked unstoppable at the goal line, that is until the final play when the Seahawks finally figured out how to keep him out of the endzone and eeked out a win 35-30.
My boy Jules had a CAREER HIGH (let's not forget how long he played with his BFF Tom) 8 catches for 179 yards.
Other records set last night:
My excitement levels over Steve Belichick's mullet. I now look forward to these shots more than my halftime snack breaks.
Jokes made about Bill's mask wearing.
Emotional moments, like when former teammates Greg Olsen (Tight End for Seattle) and Cam Newton ran into each others arms like long lost lovers in a Katherine Heigl movie.
On a much more serious note, we were alerted pre-game that Running Back James White's parents were involved in a traumatic car accident and his father did not survive. Teammate Devin McCourty gave tribute to his teammate after he completed his pick-6 (interception for a touchdown) just over one minute into the game by yelling into the cameras in the end zone:
"We love you 2-8".
If you had asked me two months ago how I would be handling a last minute prime time loss in the post TB12 era it would be along the lines of this: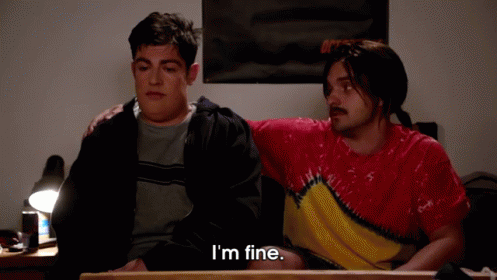 Instead, I've never felt more confident in the 2020 Patriots.